Eco-Friendly Cannabis Packaging Walkthrough: How Treehugger Nailed It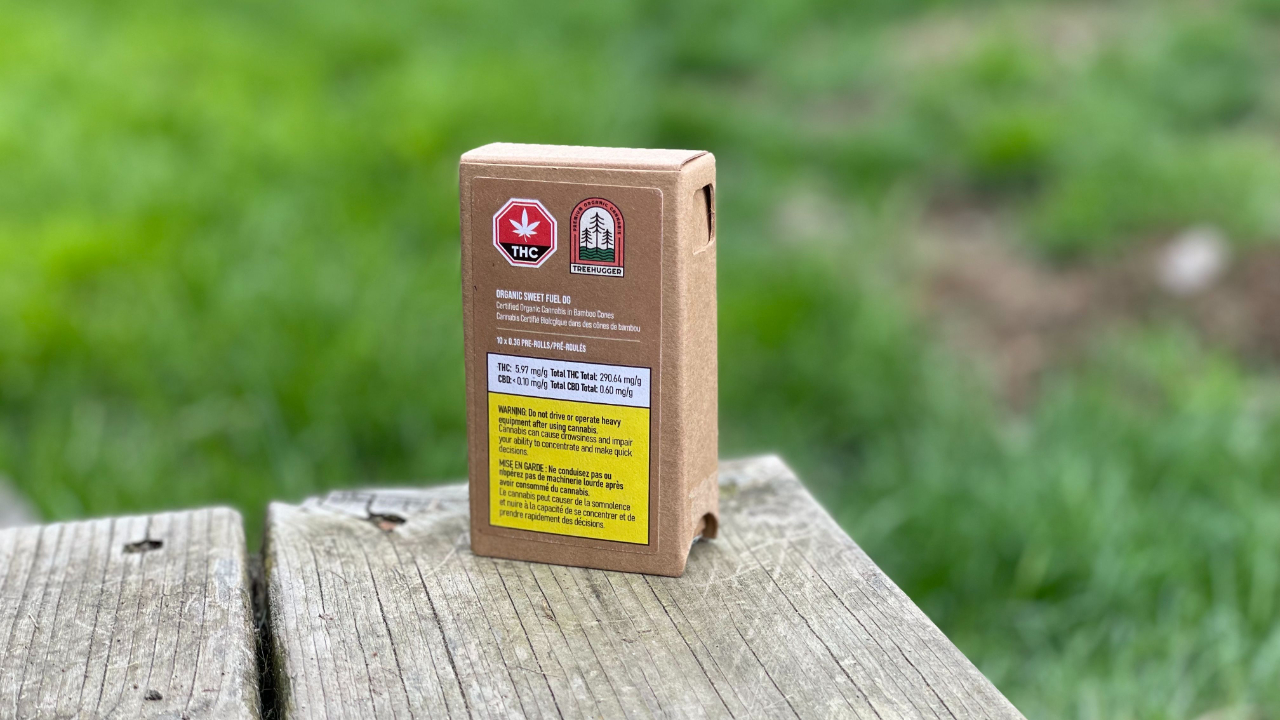 One of the best ways for designers to learn how to make great packaging is to take awesome print that is already out there, tear it down and figure out how it was made.
It's also one of my favorite ways to teach design!
Today I want to tear down this cannabis packaging piece and tell you how it was made, the materials, inks, and things that were considered during the making of the box.
This is a cannabis box sold in Canada where it is legal. In Canada there are rules and regulations required where warning labels need to occupy the majority of the box. And they are huge! 75% of the face of this carton is warning labels. Every cannabis product with THC in Canada needs these. So as a cannabis brand, you need to find ways to stand out.
So brands really have 3 things they can do to stand out with cannabis pre-roll packaging. Materials/Paper stock, a strong logo, and style of childproofing.
First let's talk about the brand: Treehugger. What does that tell you? Eco-friendly, sustainable, outdoors-loving, organic, easy-going.
The logo for the brand is clear, attractive, and the colors really speak to the name and perception of the product.
This is continued with the box stock choice. A very on-brand 24pt Kraft Board. This paper just screams eco-friendly, recycled, recyclable, and good for the planet!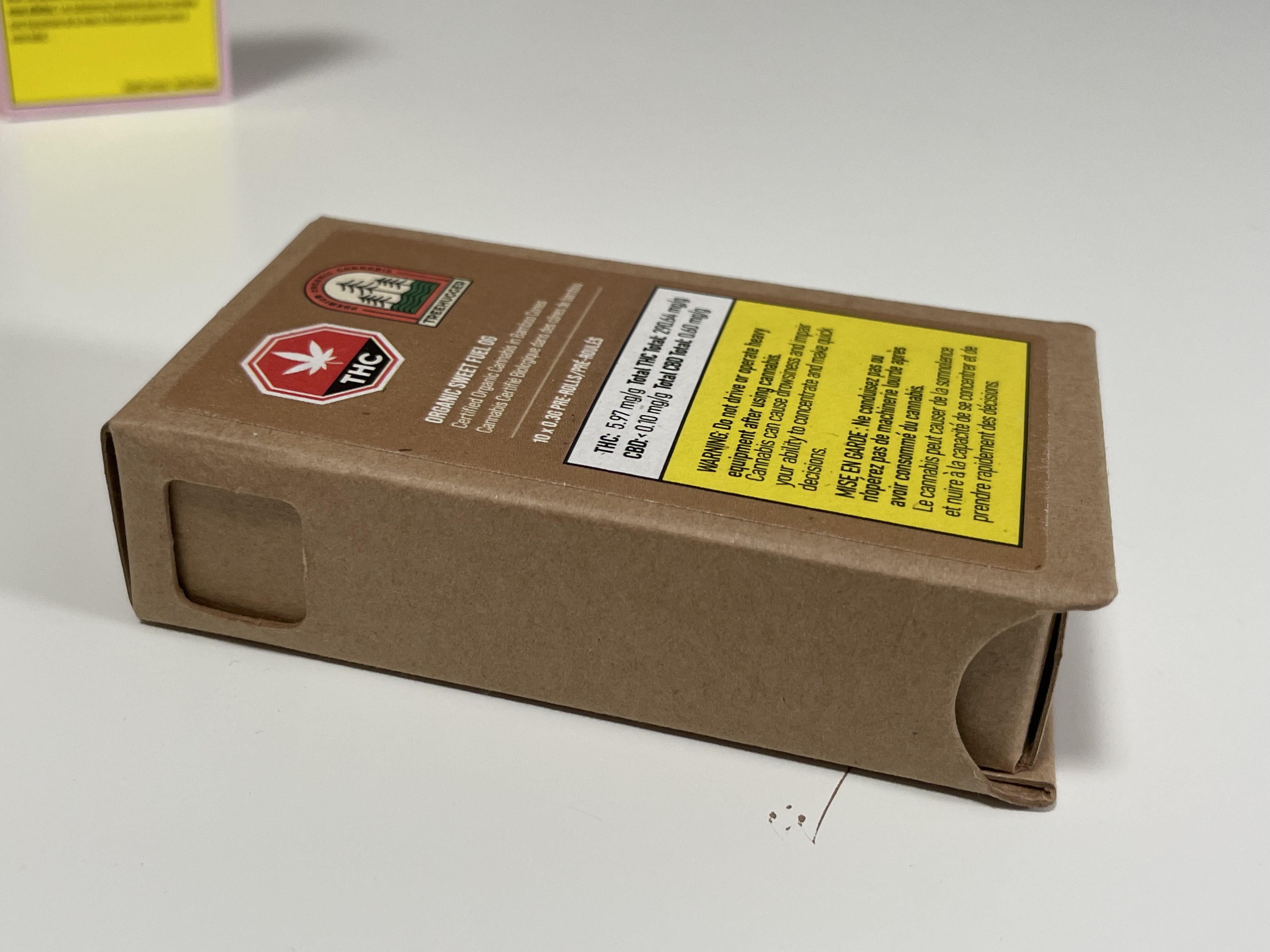 There are also labels stuck to the front and back of the box. The stock selected for these labels is an uncoated recycled stock that has some post-consumer fleck in it. Feels and looks very eco-friendly matching the brand perception.
NOTE: Due to the high cost of child-proof paper board packaging, a lot of cannabis brands will order larger quantities of blank boxes, and then differentiate products and SKUs with labels. This also gives brands the flexibility to act quickly if the Warning Label rules change suddenly but also is more cost-effective in smaller per SKU quantities than custom printing boxes for each SKU.
It even has some eco-friendly copy on the back that states; "This box is made of FSC Certified material with a label made of Hemp & Post Consumer Waste. The Inner packaging is Certified Compostable. Please recycle and dispose of this compassionately"
That is some brand-aligned copy if I've ever seen it!
Because the box contains a cannabis product, it needs to have child-proofing built into it. This particular version has two paper board tabs on the tray that simply push out into two holes on the sides of the sleeve. To get the tray out you need to press on these tabs and pull the tray at the same time.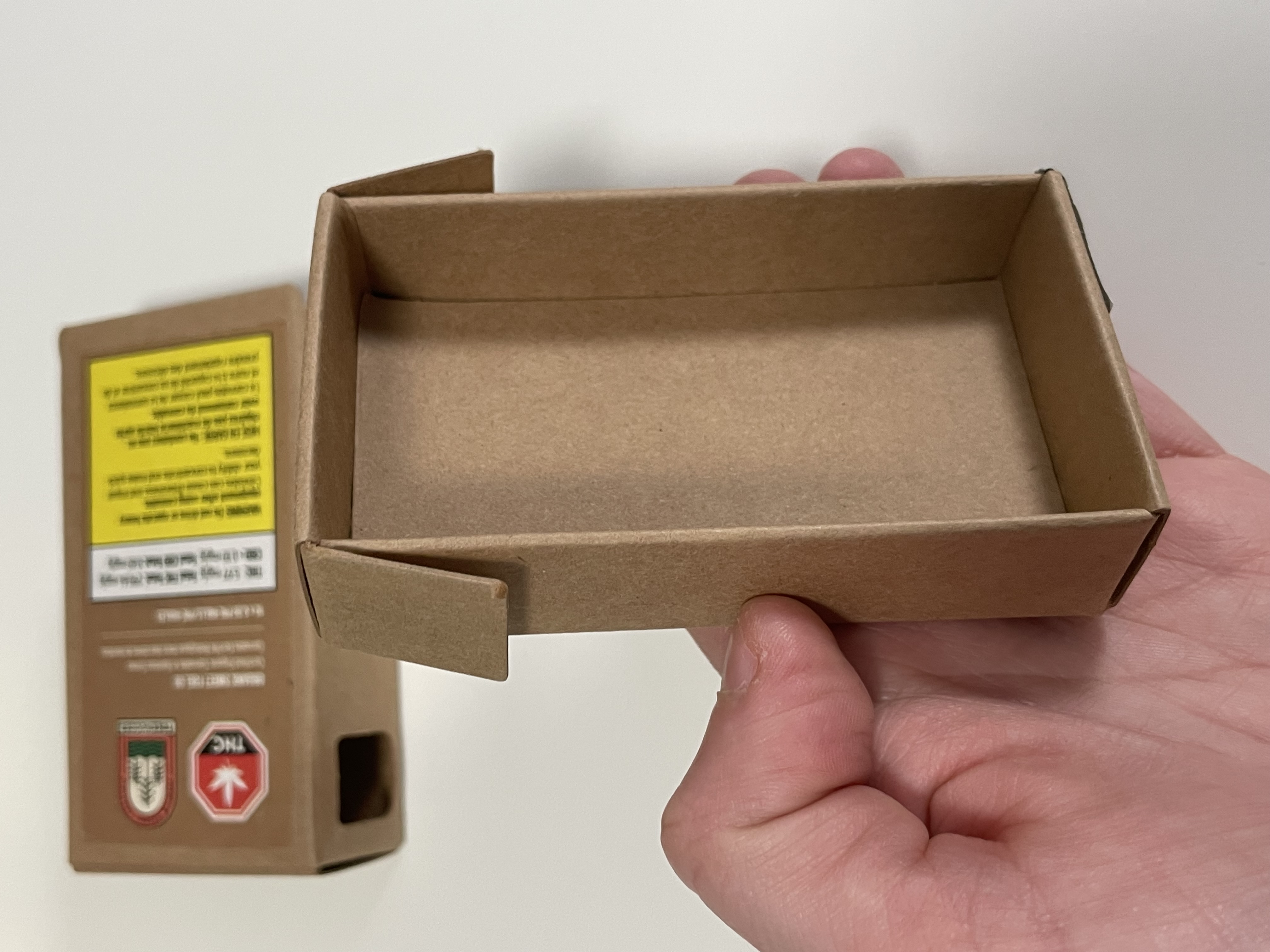 This is childproofing accomplished without extra plastic components. Awesome.
Also on the construction of the box, there are only a couple of cut edges of paper. Most edges of the box are folded over making a nice rounded edge. This adds a higher-end brand perception and feel. Instead of having sharp paper edges, it's all nicely rounded over. Really nice touch.
This is really nicely done packaging for a Cannabis product. From the construction of the box to the brand alignment of the logo and materials selected. Big Win. Well done Treehugger team!
Want press-ready files?
Are you a designer who's new to print? Or maybe you're a seasoned pro who wants to make sure your files are always on point.👌
Either way, our Print-Ready Files Checklist is the tool you need to make sure your designs are press-ready every time.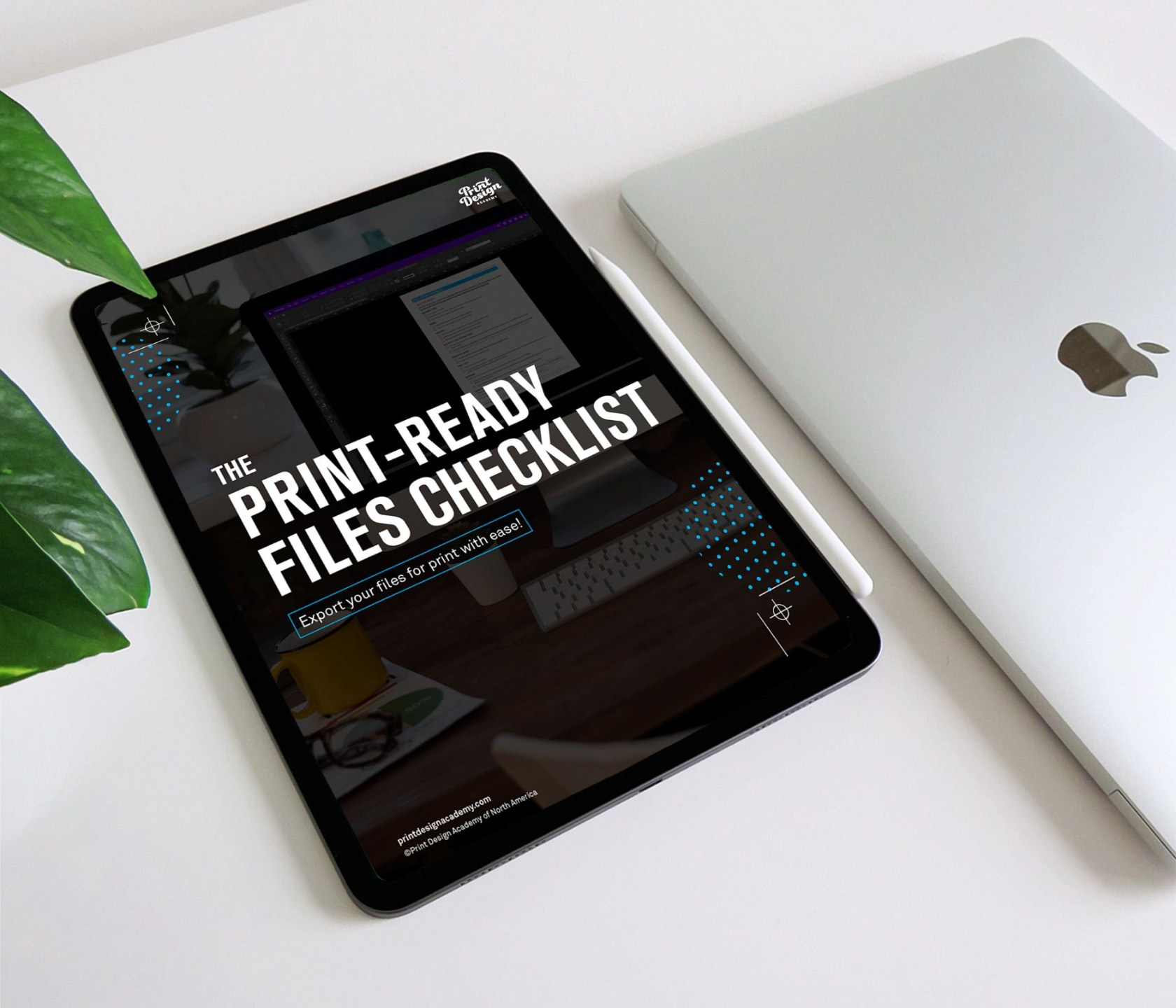 GET THE PDF